Stonebreaker Part One just arrived!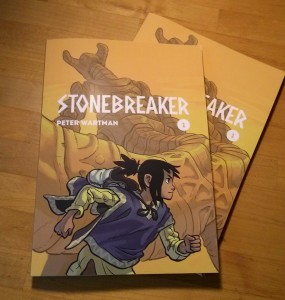 Part One contains the prologue and first chapter, and, as I did with Over the Wall, I've touched up and reworked a lot of the pages from their online versions.
I'm super excited to finally have this in print. I love the web, and I love webcomics, but comics still feel best when you have real, physical pages to look at and turn. All this time and effort I've put into making this thing feels so much more concrete now that I can hold it in my hands.
If you want a copy, I'll be selling them at Autoptic in Minneapolis, MN on August 8th and 9th. I think Autoptic is going to be awesome, so you should go regardless, but that'll be the first place to get these books.
Thanks for reading!